What is a Social Media Manager
The social media manager job description is one of the organisations' key roles in a digitized world. The role is responsible for planning, designing, implementing, and administering strategies for a company's social media accounts.
A social media manager manages how a business interacts with the public by implementing social media content plans. They must analyze engagement data, spot patterns in customer interactions, and develop digital initiatives to grow the company's online community.
In larger organizations, social media management, also known as social media coordination, can be a distinct function. The position may be coupled with other marketing and communications duties in small and medium-sized businesses. The term \"social media account manager\" is frequently used in agencies.
Through social media channels, a social media manager aids in increasing brand awareness. A social media manager serves as the conduit between your company and your social media followers. They develop monthly editorial calendars and utilize marketing tactics to convey your brand's message in unique ways.
Access to a talent pool of highly qualified applicants is the first step in recruiting competent social media managers. This starts with a clear job description.
Below I share what should be included in the job description of a social media manager.
Related: Job Descriptions- A Step-by-Step Guide to Preparing Job Descriptions
Writing a Social media manager job description
An equal employment opportunities statement, typical responsibilities, desired skills and qualifications should all be included in a job description for a social media manager.
Social media manager: Duties and Responsibilities
Development, Execution, and Management of the social media strategy.
Identify the most crucial KPIs for social media.
Manage and monitor social media material
Engage with clients and followers.
Evaluate each social media campaign's effectiveness.
Keep up with the newest social media best practices and technology.
Utilize tools for social media marketing like Buffer, Hootsuite, etc.
Sync up with the teams in charge of marketing, sales, and product development.
Create workable strategies to increase and keep followers on well-known social media sites, including Twitter, Facebook, Pinterest, YouTube, and LinkedIn.
Ensure that the monthly editorial calendar, which includes monthly sales goals and activities, is developed and implemented.
Increasing brand recognition by working with relevant influencers.
Keep an eye on user engagement and SEO, and recommend content optimization.
Employing and educating team members and offering constructive criticism
Graphics design with tools like Canva
Observe laws and regulations
Related: Job description of CEO: Everything you need to know
Requirements for a Social Media Manager
In the job description of social media manager, you need to include the KSAOs such as these listed below.
Experience in social media marketing.
Knowledge of creating social media plans.
Working knowledge of creating a marketing strategy.
The capacity to find the appropriate voice for every social media platform.
A track record of creating online communities.
Knowledge of the concepts of graphic design.
Knowledge of managing brands in social media.
Ability to assess a campaign's effectiveness.
Possess a thorough understanding of Facebook, Twitter, LinkedIn, Pinterest, Instagram, Google+, and other social media best practices.
Knowledge of web traffic data and SEO
Research expertise with audience and buyer personas
Excellent knowledge of social media KPIs
Knowledge of web publishing and design
Outstanding multitasking abilities
Strong leadership abilities
Problem-solving and critical-thinking abilities
Team player
Effective time management
Excellent communication, presentation, and interpersonal abilities
Related: Digital Marketing Manager Job Description
Social Media Manager Qualifications
3–5 years of experience in managing social media.
Business, marketing, media, public relations, or a related bachelor's degree is preferred.
Professional certification in Google Analytics.
Capable of using many social media posting tools like Hootsuite and HubSpot.
Strong proficiency with Microsoft Office and the Adobe Suite.
Related: Job description of CEO: Everything you need to know
Social media manager job description- Frequently Asked Questions
1. What are the duties of a social media manager?
They interact with their audience through postings, comments, and replies to create a believable corporate voice. Social media managers can assign content generation to other team members while researching the elements of their campaigns that generate the most interaction and sales. To mitigate the effects of unfavourable reviews and provide encouraging feedback to they also keep an eye on online articles that mention the business.
Related: Job Description for Customer Service Representative
2. What do social media managers do daily?
A typical day for a social media manager would contain the following:
Making plans for and implementing social media campaigns
Creating interesting content yourself or hiring someone to do it
Updating many social media accounts with the content
Interacting with clients through several mediums
Examining active campaigns
Keeping up with the newest trends in social media
Engaging online audiences through various means
Curating content that can help potential customers and the audience
Scheduling post. For small organizations social media managers may be involved in the actual scheduling of posts.
Social media listening. This is crucial for gaining feedback on campaigns, spotting emerging trends and understanding the target market.
You cannot manage what you cannot measure. Social media managers spend their time measuring the results of campaigns, site visits and platform growth.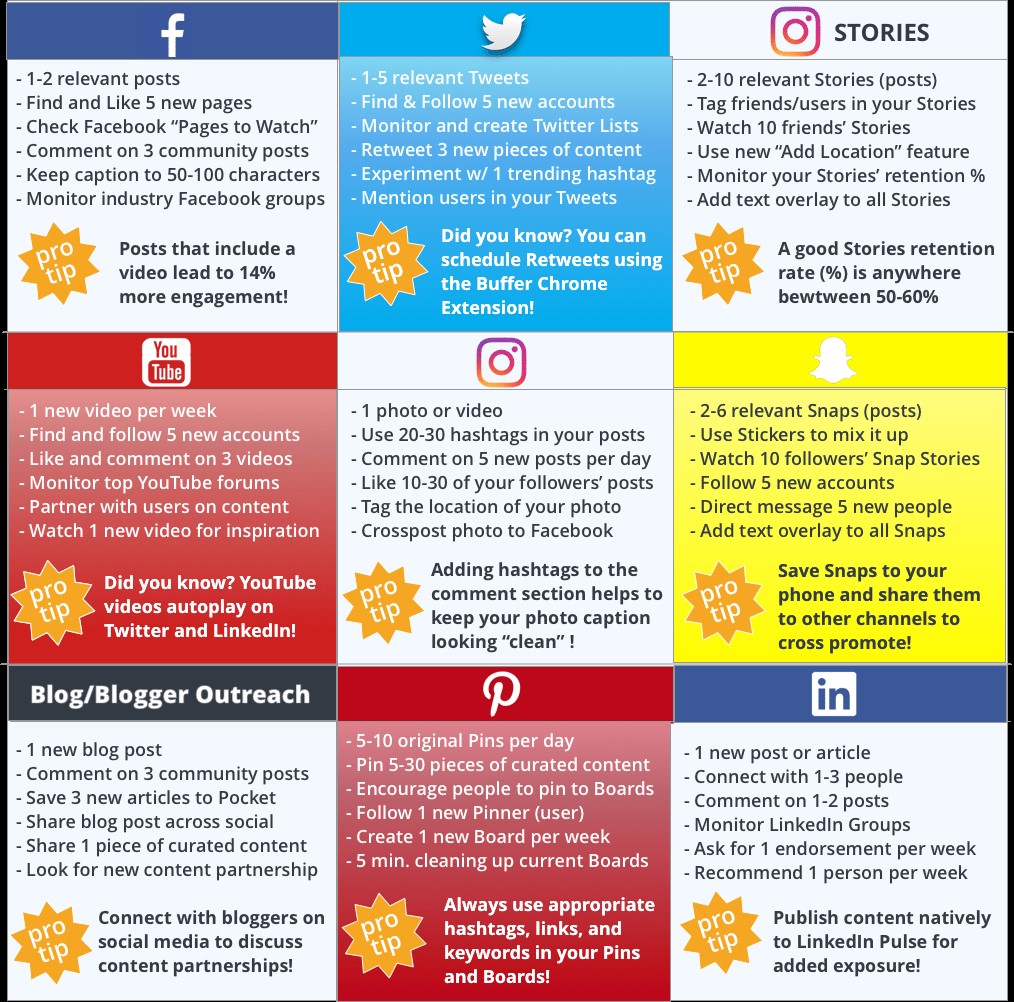 Source: Buffer
Related: Digital Marketing Manager Job Description
3. What skills does a social media manager need?
A history of success managing social media
Practical knowledge of content management
Outstanding copywriting abilities
The capacity to produce original content (text, image and video)
Solid understanding of Google Analytics, SEO, and keyword research
Understanding of internet marketing channels
Web design experience Excellent communication abilities
Talents in analysis and multitasking
Customer care
Data analysis
4. What should you look for on the CV of a social media manager?
Search for resumes that either provide instances of former corporate accounts or personal social media information to distinguish serious prospects from the rest of the submissions. By putting links or QR codes on their resume as a social media portfolio, strong applicants can demonstrate their proficiency in social media. For a social media manager, further knowledge of content marketing, blogging, and basic website profile coding can be useful.
5. What distinguishes a digital marketer from a social media manager?
While digital marketers use a variety of online marketing strategies, social media managers are solely focused on social media platforms like Twitter, Facebook, Instagram, and Pinterest. Digital marketers may incorporate social media into their entire plan, but they may also deal with other marketing strategies like search engine optimization, email marketing, and paid online advertisements. They may also work with total site analytics. Social media managers are experts in reaching out to customers by creating a personality for the business in the same way consumers establish a persona on their social media accounts.
This article was written by the Digital Marketing Team at Industrial Psychology Consultants. You can contact us at bis@ipcconsultants.com