Job search ZipRecruiter is an online platform to help you find a job easily. Job hunting may be exhausting and demanding. The process can take weeks, if not months, and there is frequently no guarantee that you have landed the right job or even a job at all. Job search via ZipRecruiter is the winning formula for anyone looking for new career opportunities.
The primary objective of a job search is often to land an interview with a potential employer, which could result in a job offer. Typically, a job seeker starts by looking for open positions or employment opportunities, and Job Search ZipRecruiter is the answer to finding job opportunities.
What is Job Search ZipRecruiter
Job Search ZipRecruiter is an online job board and recruitment platform that lets you post job openings to over 100 job boards with just one submission. It offers an application matching system powered by artificial intelligence (AI) and a database of more than 36 million resumes to assist you in locating the best applicants for your open positions.
Overview of Job Search ZipRecruiter
Employers and job seekers can connect online at ZipRecruiter. The site uses intelligent AI matching technology to connect employers with qualified employees.
ZipRecruiter has been a market-leading job board and recruiting platform for more than ten years. To find employment, more than 110 million job seekers have utilized ZipRecruiter to interact with the more than 2.8 million companies adopting the platform. Through ZipRecruiter's Artificial Intelligence matching technology, businesses and job seekers have a fantastic opportunity to interact.
ZipRecruiter serves over 400,000 businesses, including LivingSocial, Ford, Netflix, Verizon, Macy's, PayPal, and H&R Block. With just one click, users of ZipRecruiter may post positions to more than 100 social networks and job boards, streamlining the countrywide job search process for employers and job seekers.
Regarding Job Search ZipRecruiter Data, salary estimates, trends, histograms, and comparisons on ZipRecruiter are based on data from both employer job posts and independent third parties.
How do I get a job using Job Search ZipRecruiter?
When finding a job, Job Search ZipRecruiter is the smartest way to get you hired. Once you create a free account with ZipRecruiter, their innovative matching technology will send you relevant jobs immediately.
Firstly, by creating an account, they require your desired salary, job title, email, name, and location. They send your resume and contact information when you apply for a job. Everything else that you provide will only be visible to you.
ZipRecruiter will automatically populate the recommended jobs based on your resume when you log in. You can apply for a job with just one click. If there is a job that you are not interested in, you can click the \"dismiss\" button, and it will remove that job and all related jobs. The more you use Job Search ZipRecruiter, the smarter it gets since the AI-powered matching technology learns from your behaviour.
The screenshot below shows the list of suggested jobs when you are logged in: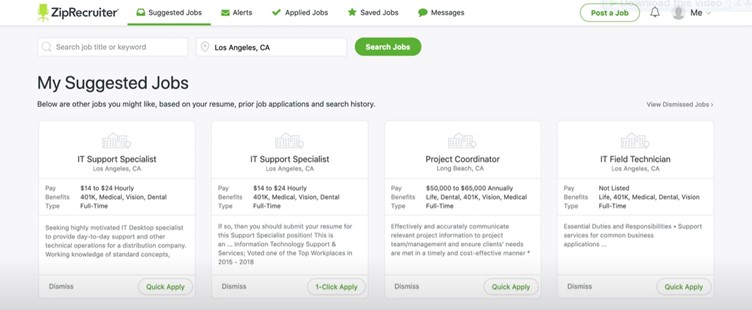 Job seekers who apply using the AI-recommended jobs are more likely to move forward in the hiring process than jobs found through keyword-based search alone. To make the process transparent, ZipRecruiter will notify you once your application is viewed. You can also elect to have notifications sent directly to your smartphone.
Based on recent research, 71 percent of the candidates increase their salary when they find a job on ZipRecruiter. To explore opportunities, use the search bar tool and take advantage of the Job Search ZipRecruiter database of nearly 9 million job postings.
How Do I Search for Specific Job Roles or Titles using Job Search ZipRecruiter?
You can utilize Job Search ZipRecruiter's search engine to find the ideal job you are searching for by incorporating specific criteria into your search using both keywords and regions.
Saved and applied jobs are organized by date. You can easily filter positions based on job type, position, estimated salary, location, etc. If you come across a job type you are not ready to apply to right away, you can save the post for later by clicking the star button as shown on the screenshot below.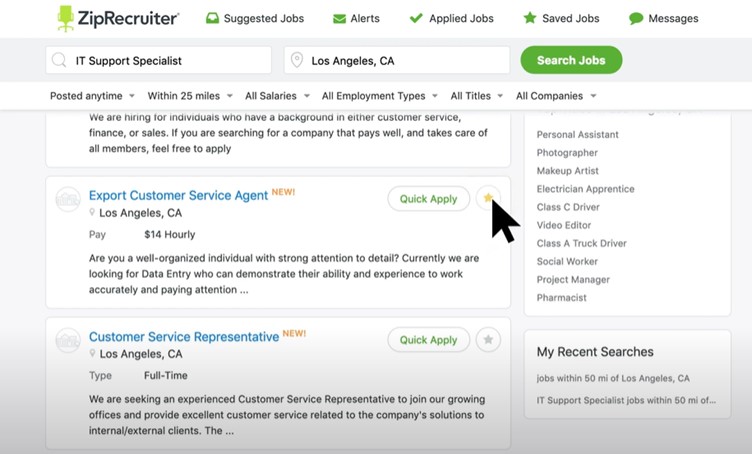 If you have been identified as an excellent match for the job for a particular role, be sure to check it out because it can give you a better sense of the types of opportunities ZipRecruiter believes you are qualified for.
Top Job Search ZipRecruiter Tips
Display your personality
Every day, hiring managers are presented with hundreds of qualified resumes; the only way to stand out is to demonstrate that you will easily fit into the business culture. Your resume's summary section can achieve this goal, but the cover letter should be used instead. Use the Cover Letter to introduce yourself to the hiring manager rather than simply restating information from your CV. For example, mention why you are interested in this particular position. For instance, if you're applying for the job of human resources manager at a photo-processing facility, use the cover letter to share with the hiring manager a story about how human resources, photography, or photo processing intersected with your life.
Research the Hiring Company
Before applying, investigate the recruiting company, then do so again before the interview. Many applicants lack the time to thoroughly research the employing organization, even though many are competent. They want someone familiar with the business, sector, and target market. They also desire a candidate who genuinely desires the position rather than simply any employment. Show them you are who you say you are.
Related: Job Search Tips: Everything You Need To Know
Include a Cover Letter
Compared to a straightforward resume, a cover letter offers a job applicant far more possibilities. You can demonstrate your writing skills, exhibit your personality, and provide hiring managers with additional information about you that may be useful to their business. Furthermore, you never know what you might say in the letter to appeal to the HR staff.
Choose quality over quantity.
Instead of sending the same resume to as many positions as you can discover, customize each CV for the specific position. Include a special cover letter that speaks directly to the hiring manager, conveys your enthusiasm for the business, and explains why you are a perfect fit for the role.
Related: How To Get A Job
Why Choose Job Search ZipRecruiter?
Job Search ZipRecruiter arms job seekers with the resources they require to stand out and land a job. ZipRecruiter searches its marketplace for appropriate job openings, approaches hiring managers at prestigious organizations, and provides status updates as a personal recruiter would. We facilitate finding employment.
Job Search ZipRecruiter's user-friendly design, mobile-optimized tool, centralized hiring data database, and collaboration suite to boost productivity are its primary advantages.
Job Search ZipRecruiter is straightforward to use. AI matching is its biggest feature because it helps you find suitable people without spending hours browsing resume databases. However, if you choose to, you can browse a database of resumes and download them if you purchase the premium service. The first four days of use on the platform are also free for you to test out.
Job Search ZipRecruiter makes hiring easier, so organizations are starting to use it more frequently. The software streamlines and speeds up the hiring process. This is achievable because all processes may be completed in a single database containing posts from over 50 job boards and can be accessed by a team with a single click. Another notable benefit of the software is its collaboration suite, which enables staff members to review, discuss, and compare resumes to speed up the hiring process and make wise decisions.
The most valuable feature of Job Search ZipRecruiter is seamless integrations, which allow businesses access to hundreds of job boards to post job openings and look for qualified individuals.
Additionally, the tool's mobile optimization enables users to exchange resumes and post job openings with a single click. When a recruiter views their information, the system then sends alerts to let them know. Job seekers are informed when their CV is read, and businesses receive notifications each time a new application is placed so they can promptly analyze it. Additionally, they can arrange online interviews and personalize and tailor their responses.
Both recruiters and job searchers can utilize the Job Search ZipRecruiter mobile application, which is available for iOS and Android. There will be more job opportunities because the mobile app simplifies for people to apply for positions anytime, anywhere.
Conclusion
Job Search ZipRecruiter is a wonderful choice if you're looking for a reliable recruiting platform for finding your dream job, advertising job opportunities on numerous job boards for employers, and monitoring applicants' progress. Its simple one-click job postings, intelligent AI applicant matches, and user-friendly interface also feature adaptable plans for the recruiters. This benefits employers with various employment requirements, such as small enterprises prepared to expand their workforce.
Patson Chidari is the Business Systems Software Developer at Industrial Psychology Consultants (Pvt) Ltd, a management and human resources consulting firm.
Phone: +263 242 481946-48/481950
Mobile: +263 775332497
Email: patson@ipcconsultants.com
Main Website: www.ipcconsultants.com