Onboarding software is a vital part of any company. It helps new employees get up to speed quickly and efficiently, making the onboarding process less overwhelming for them. This blog post will discuss what onboarding software is, why you need one, and how it can help your business grow!


What is Onboarding Software?
Onboarding software is a tool that helps organizations to streamline and automate the process of onboarding new employees. It is typically used to gather employee data, track compliance with onboarding requirements, and provide new hires with information about company policies and procedures.
"When your company considers implementing employee onboarding software, there are three key elements at the heart of your decision; price, complexity and integrations. Each of these factors should be considered carefully as they have long-lasting implications that affect business profitability and culture."
Onboarding software can also be used to administer orientation programs and track employee progress during the first few weeks or months of employment. By using onboarding software, organizations can improve efficiency and ensure that new employees receive the support they need to transition into their new roles.
Why You Need An Onboarding Software
If you're not already using onboarding software, you're missing out on many potential benefits. Here are reasons why you should consider using onboarding software for your business:
Onboarding software can help streamline the process of onboarding new employees. This can save your business time and money by reducing the amount of time it takes to get new employees up to speed and productivity.
It can help ensure that new employees receive the information they need in a consistent and organized manner. This can help reduce confusion and frustration and ensure everyone is on the same page from the start.
It can help create a more standardized onboarding experience for all employees. This can help reduce turnover and improve employee satisfaction
Onboarding software can help you track the progress of each individual employee during the onboarding process. This information can be used to identify areas where employees are struggling and need additional support.
It can help you customize each employee's onboarding experience based on their needs and preferences. This allows you to create a more personalized and effective onboarding experience for everyone involved.
These are just a few reasons to consider using onboarding software for your business. If you're not already using one, it's time to take advantage of all they offer.
The Best Onboarding Software
Below are some of the best onboarding software that you can utilize.
1)Freshworks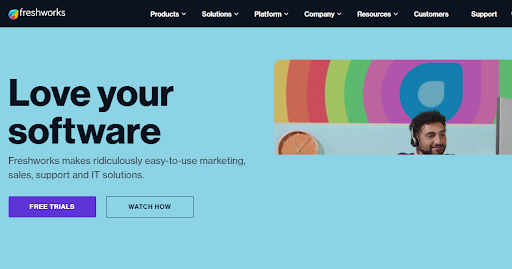 Freshworks Onboarding is a cloud-based HR onboarding software that helps businesses streamline the process and quickly get new hires up to speed. The software includes various features, such as an Employee Handbook, Employee Training, and Employee Self-Service.
Freshworks Onboarding also offers a mobile app for iOS and Android devices. With Freshworks Onboarding, businesses can reduce the time and cost of onboarding new employees.
2)Click Boarding
Click Boarding is software that makes onboarding new hires easy and efficient. Managers can create customized onboarding plans for each new hire with just a few clicks and track their progress.
Click Boarding helps ensure that all necessary steps are completed on time and everyone is on the same page from the start. The software is also scalable, so it can be used for companies of all sizes. Click Boarding is a valuable tool for any business that wants to streamline its onboarding process and ensure every new hire has a great experience.
3) FactoHR
FactoHR makes it easy to create a custom onboarding experience for each new hire, ensuring they have all the information they need to succeed in their new role. This program is an all-in-one human resource management system that offers many features to help businesses streamline their HR processes. It includes an employee self-service portal, where employees can access their personal information, view their payslips, and request time off.
The system also offers a comprehensive leave management module, which helps businesses keep track of employee leave balances and absences. In addition, FactoHR features a robust performance management tool, which can be used to set goals and objectives, track progress, and deliver feedback. With its wide range of features, FactoHR provides everything businesses need to manage their HR processes efficiently and effectively.
4)Trello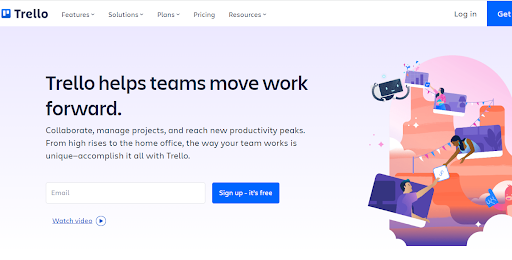 Trello is a software application that helps businesses to onboard new employees quickly and efficiently. It provides a central platform where managers can assign tasks, set deadlines, and track progress.
Trello also offers a range of features to help team members stay organized and on track, such as Kanban boards and calendar views. It also includes creating and commenting on tasks, setting deadlines, attaching files, adding labels and comments, and creating checklists.
In addition, users can also create boards to track the progress of their projects. Trello also offers a variety of integrations with third-party applications, such as Google Drive, Dropbox, and Evernote. With its simple interface and powerful features, Trello is an essential tool for any business that wants to onboard new employees effectively.
5) Monday.com
Monday.com is onboarding software that helps companies onboard new employees quickly and easily. The software provides a step-by-step guide for onboarding new employees and includes various tools and resources companies can use to successfully onboard new employees.
One of the most useful features is the ability to create custom workflows. This allows users to tailor the software to their specific needs and ensure all tasks are completed efficiently.
Monday.com also offers a wide range of integrations with other software, making it easy to keep all your project data in one place. And if you need any help getting started, the software offers a comprehensive set of tutorials and support documentation.
6) IntelliHR
IntelliHR is a cloud-based human resources software that helps businesses manage employee data. The software features a customizable dashboard, which allows businesses to track employee performance, compliance, and engagement.
Additionally, IntelliHR provides a tool for creating custom reports, which can be used to identify trends and improve decision-making. The software also includes a built-in messaging system, which helps businesses communicate with their employees more effectively.
7) Talmundo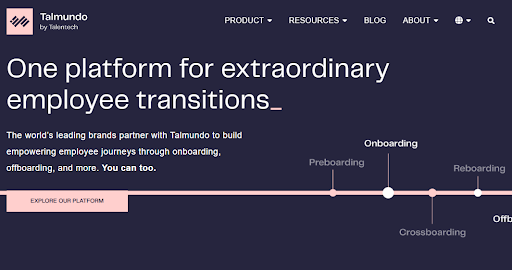 Talmundo offers a suite of features to simplify and streamline the employee onboarding process. New hires are given a personalized dashboard that contains all the information they need to get started, including job descriptions, company policies, and contact information for their supervisor.
The system also includes automated workflows that help to ensure that all the necessary tasks are completed promptly. In addition, Talmundo provides a central repository for all employee documents, making it easy for managers to access important records.
By providing a comprehensive solution for employee onboarding, Talmundo helps businesses save time and money while ensuring that new hires are properly prepared for their new roles.
8) Eddy
Eddy is a leading onboarding software solution that helps companies streamline the process of onboarding new employees. With Eddy, new hires can complete all the necessary paperwork and documents online without having to go through the hassle of meeting with HR in person.
In addition, Eddy provides a wealth of resources and information to help new employees transition into their roles seamlessly. From Orientation Guides to Job Aids, Eddy has everything new hires need to hit the ground running. And because the onboarding process is completely automated, companies can save time and money while ensuring that their new employees are properly set up for success.
Key Things to Look for in a Good Onboarding Software
You should keep a few things in mind when looking for good onboarding software. Here are ten things to look for:
Ease of use: The software should be easy to use and understand. It should have a user-friendly interface that makes it easy to find what you're looking for and start using the software.
Flexibility: The software should be flexible enough to meet your specific needs. It should be customizable and allow you to set up onboarding processes that work best for your company.
Integrations: The software should integrate with your other systems, such as your HRIS or applicant tracking system. This will make it easier to manage your onboarding process and ensure all the information you need is in one place.
Training and support: The software should come with training and support to help you start using it. They should also be available to answer any questions you have and help you troubleshoot if you run into any problems.
Reporting: The software should provide reporting features to track your onboarding progress and see how well your employees are doing. This will help you identify areas where you need to make improvements.
Scalability: The software should be able to scale as your business grows. It should be able to handle an increasing number of employees and onboarding processes.
Security: The software should be secure, with features such as data encryption to protect your employee information.
Pricing: The software should be affordable.
Conclusion
Onboarding software is designed to help new recruits adjust to their new roles within your company. By providing a structured introduction to the company culture, values, and expectations, onboarding software can help new employees feel more comfortable and confident in their new positions.
In addition, onboarding software can help reduce turnover rates by ensuring that new employees are adequately prepared for their roles. If you're looking for a way to improve your company's onboarding process, consider investing in onboarding software. It could be the key to retaining your best talent and maximizing productivity.
Author: Cosmas
Cosmas is a tech enthusiast and SAAS writer helping clients better understand products and services. He has been featured on websites such as PV Magazine and Bitcoin Kenya. During his free time, he likes traveling to unknown places and exploring what's new on the internet.