What is an Employee Communication App?
Employee communication applications are online platforms for linking businesses with their workforce, most frequently through mobile devices. These apps are collaboration tools with features like personalization, two-way communication, and interactive elements. Apps are crucial in ensuring that all employees have access to material that engages them in their work and enhances their performance. Research states that over $3 million is lost annually due to a lack of employee engagement.
Research shows that a typical office worker receives 121 emails every day. Employees are expected to read and respond to emails for around 28% of the workweek. You can considerably lower this number with a communication application.
Selecting an application for your company
Your goals will determine which employee communication apps to choose for staff communication. Some applications are ideal for disseminating the most recent business news, some for encouraging collaboration, and others for building communities.
Decide first what you want your app to do. Then do your study and contrast what each app offers with what you require. Every app will have strengths and weaknesses, therefore, it's critical always to keep your goals in mind.
You should determine how much you want to spend. Cost is usually a deciding factor when choosing an app, and some apps cost more than others. You will only spend money on functionality that you need if you keep your ultimate goals in mind.
What to look for in an employee communication app?
Keep the following things in mind when looking for internal communication platforms for your company:
Instant messaging: Chatting with team members helps foster relationships and speed up the resolution of common issues.
Workflow management: Real-time interaction with schedules and tasks help teams become more productive by reducing uncertainty.
Sharing content: Training materials and business announcements should be simple to edit and publish in news feeds and email newsletters.
Integrations with third parties: Having access to third-party features like payroll or cloud storage makes it more convenient for teams to utilize communication tools.
A demo or free plan: It's important to test a communication app's compatibility and usability before purchasing, and some businesses do so.
Examples of Employee Communication apps
Here are a few examples of employee communication apps you can use to collaborate and connect with people across your organization. They offer a wide variety of features, cover a large range of communication kinds, and come in different price ranges. Here, you are likely to discover one that suits your requirements.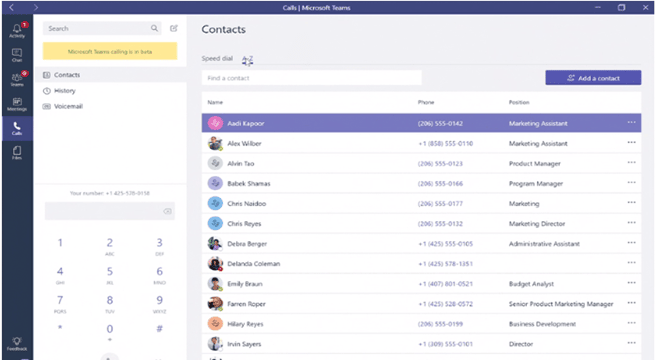 This application is available on the web, iOS, and Android mobile devices. Internal communication is made easier with Microsoft Teams. It offers a straightforward chat-based centre for fluid teaming and collaboration. It is an easy-to-use tool that takes little to no time to set up and becomes accustomed to. You may conduct a real-time chat, video call, and screen sharing from a single platform.
Large teams, especially those working in desk-based enterprises, can use Microsoft Teams. Teams is appropriate whether you need a real-time conversation or just want to give someone an update at the end of the day because it offers 1:1 and group chats as well as audio and video calls of up to 300 participants. Chat groups can be created specifically for a project, promoting accountability and teamwork.
Screen sharing, breaking up into smaller groups for in-depth discussions, and recording and transcription of the conference are some of the more sophisticated in-app video calling tools. Additionally, you can add your business phone number to your Teams account, which is especially helpful for remote workers who receive customer calls.
Although Teams may be purchased separately, a Microsoft Office suite is the easiest way to use it. Teams has access to your work calendar and scheduling features when Outlook is linked, for instance. Additionally, Teams allows for the smooth uploading and linking of files from OneDrive and SharePoint.
Top features:
It can be integrated with all Microsoft applications
It is a unified platform for all communication methods.
It is simple to set up and use
In-app schedule
Pricing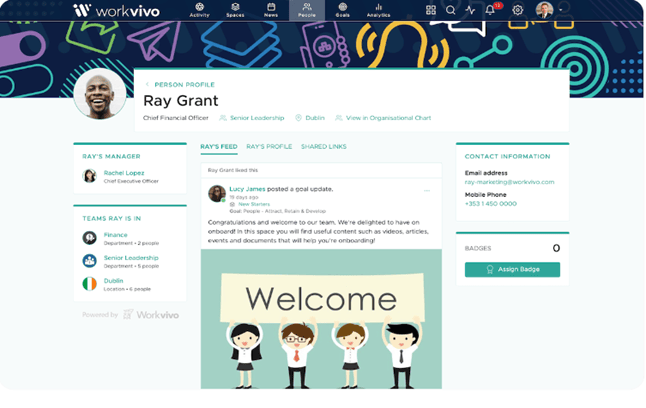 Workvivo is an internal communication tool that uses a well-known newsfeed-style social environment to assist boost employee engagement and retention. Companies can communicate with their workers via the social experience by posting information like internal company news in a recognizable fashion.
Workvivo also offers a mobile app, ensuring that it can be utilized without device restrictions by frontline workers or a mobile workforce in addition to remote and in-house personnel.
Top features of Workvivo include team surveys and polls, community groups, event information, and \"shout-outs\" that publicly acknowledge people's accomplishments. Multimedia uploads, such as live-streamed films and podcasts, are also included. Workvivo offers audience engagement statistics for posted material, assisting leaders in understanding what best motivates their employees. Workvivo aims to promote team cooperation and productivity through intelligently dispersed information.
The questions and comments features allow team members to share information at a detailed level, which is helpful in fast-paced industries like hospitality, where staff members require prompt, precise instructions.
The Workvivo intranet can host company content such as podcasts, articles, and other types of media. Staff can locate the activities and people they need with the help of the people directory and events calendar. Email digests list the week's or 'days' worth of the most important new content. Shout-outs to celebrate success are a good feature to raise employee satisfaction.
Top Features:
File sharing
Collaboration groups
Multimedia news feed
Individual and team goals
Pricing
You can contact Workvivo for a personalized quotation.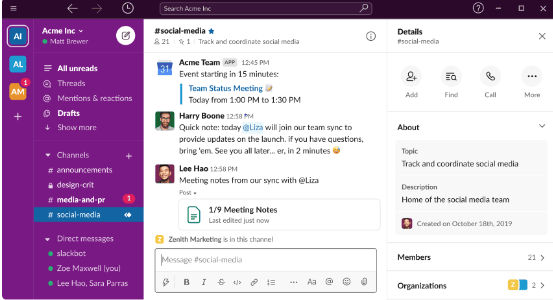 One of the greatest methods to solve communication issues at work is to use Slack, a well-liked internal messaging platform that enables organizations to divide work and personal talks. With chats divided into 1-on-1s and channels, it is easy to use. Workers can maintain focus on information pertinent to them by using channels, which are group chats that can be devoted to certain projects or teams.
Slack was created to allow co-workers to communicate, share ideas and options, and collaborate on projects. It provides a practical way to exchange ideas with the team, whether at the office or working from home. Additionally, it enables staff members to form several groups, communicate across teams, and so much more! This communication app allows co-workers to connect, discuss options, and achieve their goals together. Slack is used by more than 65 Fortune 500 businesses on a commercial basis.
You can hold in-app meetings with one or more employees using the audio and video call feature, and user profiles show if they are available or busy. Additionally, you may drop files into channels and direct messages from integrated online storage services like Dropbox in addition to your local disk.
Slack gives users the option to personalize their app experience with features like advanced notification settings and chat text formatting options. Additionally, it allows for automation through third-party connectors, boosting team efficiency. For instance, you can combine Slack and Trello to get alerts whenever team members are given new tasks. However, task or schedule management tools are unavailable within the Slack app.
Top Features
Audio and video calls
Integration tools
Workflow automation
Private and public chat channels
Pricing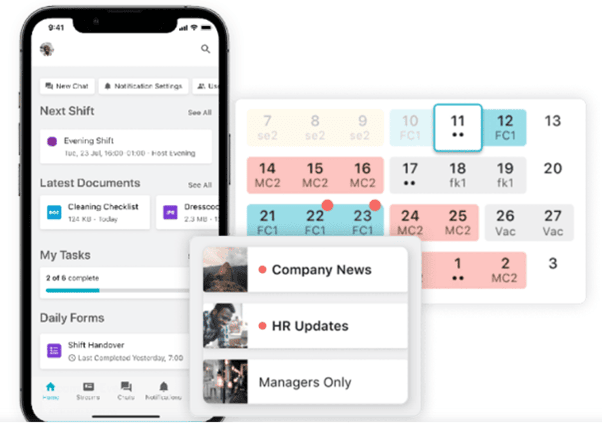 Beekeeper helps businesses teach and engage desk less workers while offering communication channels for daily decision-making. It was designed with frontline teams in mind, especially in manufacturing, retail, healthcare, and hospitality. This is suitable for frontline workers and is compatible with web, iOS and Androids.
Group or one-on-one chats are available, and company announcements may be viewed in a customized news feed, ensuring staff are aware of critical information in advance. Management may track the effectiveness of team-wide messages with a one-click \"message read\" confirmation.
Streamlining employee onboarding and training is a common Beekeeper use case. Modules, files, and quizzes are utilized to digitize what would otherwise be a costly and drawn-out procedure. You can also design surveys to find out what inspires employees and what they have learnt on the job. This is crucial because, according to a Gallup research, when employees share their achievements and aspirations with their supervisors, they are 2.8 times more likely to be engaged.
If you make use of Beekeeper's broad marketplace of integrations, which ranges from HR and payroll systems to training and file management platforms, it will probably boost the efficiency of your staff. For example, you could link Beekeeper with a chatbot program that generates automated responses to frequent requests from staff members.
Top Features:
Company announcements
Training and on-boarding modules
In-app chat with file sharing capability
Integrations marketplace
Inline translations, which provide content in different languages
Pricing
Beekeeper has three plans: Standard, Professional and Enterprise. Their pricing is available on their website.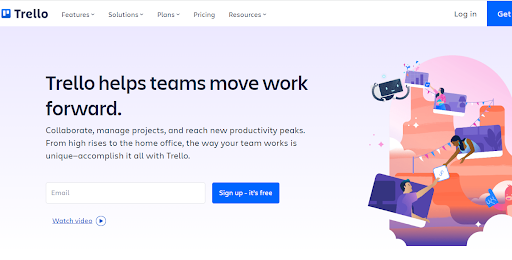 Trello is a fantastic project management tool, especially for remembering and keeping track of tasks and examining prior team actions. Once the program opens, you can build several boards with task-containing cards. Tasks can be freely moved from card to card and assigned to team members.
Trello is excellent for seeing the big picture and managing what has been completed and what has to be still done (and by whom). All tasks have additional features like uploading, labels, checkboxes and commenting, so this allows you to manage your project and collaborate with your team.
Top Features
Visual boards
Storage feature
File management feature
Checklist and scheduling
Integrates with email
Pricing
Trello has a basic plan which is free. It also has a paid plan that starts from US$5 per user per month.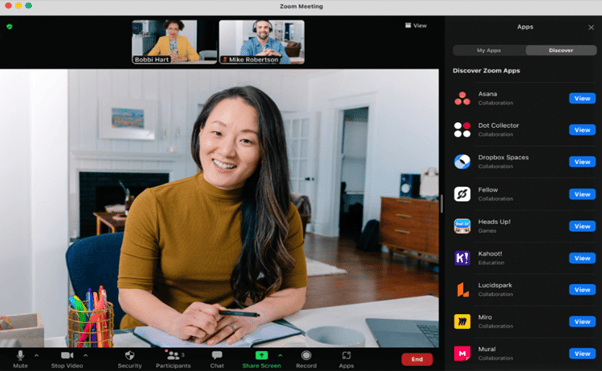 One of the apps that really took off during the COVID19 pandemic is Zoom. Its ease of use, ability to handle big groups and crisis-related extension of its free products have made it extremely popular.
This app allows you to engage with your audience on a single page and offers a wide range of outstanding accessibility choices. You can use your laptop or an Android or iOS mobile device to access it. During the video conference, you can freely chat with your team as well.
Some incredible features, including live backdrop change, are also available for the PC edition. Additionally, there are additional tools like whiteboarding and screen-sharing for demonstrations.
Top Features:
End-to-end encryption
Password protection
Participant camera feed
HD video and audio
Zoom scheduling
Pricing
Zoom has a free plan with limited features. It also has a Pro plan that starts from $14.99 per month per license and lastly a Business and Enterprise plan that costs $19.99 per month per license.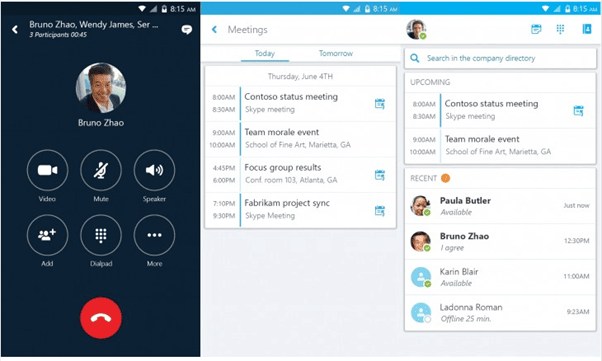 One of the best platforms for internal communication in businesses nowadays is Skype. Skype is one of the most straightforward and well-liked programs, offering capabilities like group chats, file sharing, free audio and video calls, free group video calling, and screen sharing.
The 2015 edition of Skype Business is a more professional communication solution you may be looking for. Skype Business offers similar services, with a few extra conveniences like meeting scheduling in Outlook, online meetings, and integration with Office programs.
Top Features:
Instant messaging
Video conferencing
Recording option
Screen sharing
Whiteboard tool
Pricing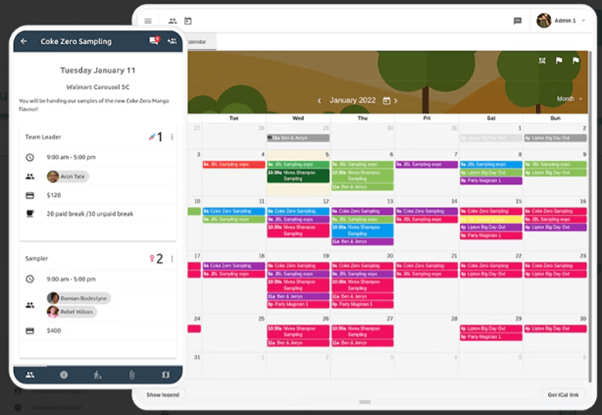 An excellent communication app for internal communication is StaffConnect. It facilitates interaction within a company and promotes two-way communication. The application's goal is to provide employees a voice in order to close the communication gap between desk less workers (freelancers and remote employees) and office-based employees.
StaffConnect works best for event management companies and comes with a talent database and chat features. It makes it convenient for you to avoid purchasing a separate payroll solution because it enables employees to check-in and out, submit timesheets, and create invoices. However, the solution can be integrated with the Xero accounting program, and you can also decide to pay staff in other ways.
Top features:
Chat function
Timesheets and invoicing
File sharing
Event calendar and shift assignment
Pricing
Conclusion
There are several excellent employee communication apps available. I only shared a few that are commonly used by organizations. Whatever you decide, be sure to pick the app that best suits you the go-ahead and develop a strong team with excellent communication, engagement and loyalty!
Nicole Chimwamafuku is Finance, Strategy and Performance Management Consultant at Industrial Psychology Consultants (Pvt) Ltd, a business management and human resources consulting firm.
Phone: +263 242 481946-48/481950
Mobile: +263 782 415 973
Email: nicole@ipcconsultants.com