In the customer-centric environment, where digital customers seek instant gratifications, it becomes challenging to expand your business reach and guarantee profits.
Brands that connect with the customers at every stage of their journey are more adept at building a loyal customer base and making a significant impact on their bottom line. Doing these manually and achieving desired results is almost impossible.
That's why more and more companies are walking the path of marketing automation and rapidly adopting marketing automation software.
Marketing automation refers to software and other technologies to automate repetitive and mundane tasks. These tools help enhance the effectiveness of your online marketing campaigns, including websites, social media, email, and other types of content you publish.
If your marketing program is getting harder to manage, consider using these automation tools to simplify your life.
Top 6 software solutions for marketing automation
Here are six top tools to consider for your marketing automation and grow your business to another level:
1.

TravelPerk
–Travel and expense management software
Does your business frequently send employees on business trips? If so, managing and manually tracking travel expenses can be a nightmare. From collecting receipts to creating an expense report, travel and expense management software helps you get an overview of your corporate travel spending.
These tools help in booking tickets and hotels and streamline the invoice process. So, companies are always searching for the best travel expense management software to manage their corporate travel.
Software like TravelPerk is ideal for businesses who want to streamline the booking process and make ticket booking a cakewalk for their customers.
What distinguishes this software from others is its ability to integrate with other expense management tools.
From ensuring compliance with the company's travel policy to providing advanced reporting, this tool provides a comprehensive overview of your spending.
Their round-the-clock customer support boasts of a 15-second response time, making it easier for people to manage and book tickets.
It's a one-stop destination that helps you meet your travel and expense management solutions.
Pricing: The tool offers a free plan, and their paid plan starts at €15 per trip.
2.

LightspeedHQ
– Tee time scheduling software
If you want to grow your golf course, manually managing your golf course and club could be a nightmare. That's why clubs and courses are using tee time scheduling software to manage scheduling and rescheduling of tee times.
A robust tee time software like LightspeedHQ can take the burden of managing customers off your plate. This software reduces the mundane tasks like allowing guests to book their tee times, sending automated reminders, and creating an automated waitlist. It ensures you focus on other aspects of your business.

Regardless of the device a golfer uses, the responsive design of this tee time software provides a great booking experience on any device. Using the live dashboard, you can manage online payments and give players the option to let golfers pre-pay online.
Interestingly, you can easily install this booking widget on your website and customize it to ensure it matches your branding.
It helps keep tee times on par and is a must for every golf course and club.
Pricing: Their plan starts at $200 per month
3.

ActiveCampaign
– Customer experience and sales automation software
ActiveCampaign is a leading customer experience, and sales automation software developed to help small businesses thrive in their specific markets.
What differentiates ActiveCampaign from others is that it provides pre-built automation features that combine email marketing, CRM, and marketing automation. Its innovative toolkit features help you streamline your marketing efforts and help businesses with a minimal budget.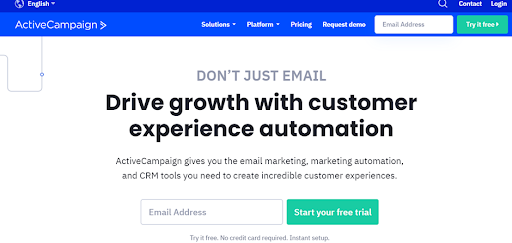 Interestingly, the software keeps track of the leads in a CRM, thereby giving you time to sell to your customers.
With ActiveCampaign, you can ensure that no contact slips out of your funnel because it allows you to automate contact management, monitor deals, and track tasks. It ensures your sales process moves as smoothly as possible.
Apart from sales and customer experience automation, ActiveCampaign allows you to automate workflows in minutes. This tool can meet your marketing needs, no matter how complex they are.
Pricing: Their lite version starts at $9 per month, and their paid plan starts at $49 per month.
4.

Calendly
– Appointment scheduling software
If your business relies heavily on customer and client appointments, you probably need appointment scheduling software to manage and effectively run your business.
Making appointments in the 'old' way also increases the chances of miscommunication and errors, thereby creating havoc.
That's why businesses widely use appointment scheduling software like Calendly. It's a hub for scheduling meetings and eliminating the hassle of managing appointment-related emails.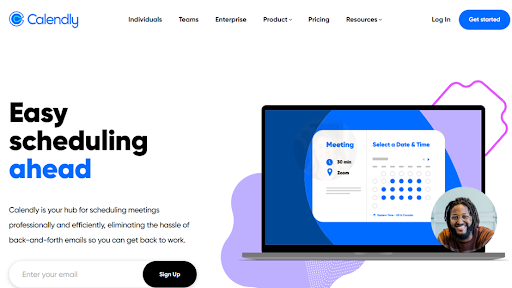 Their minimal user interface and active community support make this appointment scheduling a must-have in your arsenal. From booking webinars and training sessions to schedule across your team's calendar, Calendly is your one-stop destination appointment scheduling software.
As Calendly puts the entire meeting on autopilot, it sends reminder emails and thank you notes so that you can focus on the work only you can do. It works as an assistant even if you're operating a business of one.
Pricing: It offers a free plan, and their basic plan starts at $8 per seat per month.
5.

Sendinblue
– Email marketing automation software
As email has an ROI of 4400%, it's a widely used marketing strategy. But email marketing can get time-consuming if you perform the same tasks repeatedly for various clients.
This is where companies use email automation tools. One widely used email marketing automation software is Sendinblue.

Sendinblue is an intuitive email automation tool that helps businesses create a mailing list, capture data, and automate emails via autoresponders.
This allows companies to customize their emails using a simple drag-and-drop email builder. It's an easy-to-use interface that doesn't require too much knowledge of IT.
Using Sendinblue, you can create multiple workflows and have them running parallel to each other. The automation feature of Sendinblue allows you to send a birthday email with a special offer or discount.
It helps you trigger a welcome email when a new subscriber joins your email list. Companies can send an onboarding email series to new customers with this software. As brands are moving away from mass email and switching to hyper-personalization, a tool like Sendinblue, is a blessing in disguise.
Pricing: Offers a free plan, and their paid plan starts at ₹1510 per month.
6.

PandaDoc
– Proposal software
If your company submits proposals for job applications, especially in professional services, it might be fruitful to use proposal software to send automated applications.
Apart from drastically cutting down the non-billable hours you spend creating your proposals, PandaDoc is an all-in-one document automation tool with advanced capabilities.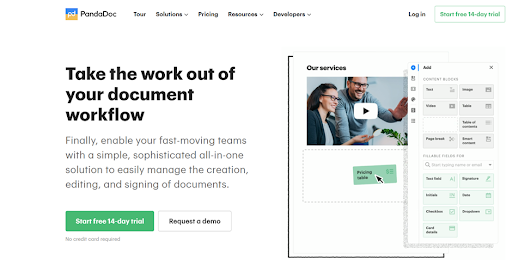 Their editing tools help users build interactive quotes, proposals, and contracts. You get access to document templates and offer a rich media drag-and-drop editor by unlocking their premium version. Using the free version of the tool, you can upload their documents and send them for signature.
Interestingly, you can enable customer notification to know when your client opens the document and how much time they spend reading the document you share.
You can also use PandaDoc for contract renewals and HR solutions to simplify recruiting and onboarding, making your workflow organized and efficient.
It's a valuable tool in your arsenal as it provides integration with various other software, such as Zendesk sell, Nutshell, Pipeline CRM, and Microsoft OneDrive.
Pricing: Offers a free plan, and their paid plan starts at $19 per USD.
Key takeaways
Automation has bottom-line and top-line benefits that help drive productivity, profit, and efficiency for your team.
These are some of the best and leading automation software solutions, each offering a unique benefit and advantage.
While TravelPerk and LightspeedHQ are leaders in their respective categories, ActiveCampaign provides an affordable solution tobusinesses looking to grow their customer base and impact their bottom line.
However, ensure you choose software based on your business requirement an d your budget.
While each software boasts of bringing a revolutionary change, give the software a free test ride to see whether it meets your business requirement.
Also, ensure that your software is scalable; otherwise, you might have to look for other options when your business grows. If the software doesn't offer a trial, you can watch a use case video on YouTube or read customer testimonials.
Which automation tool are you planning to use and integrate to streamline your workflow and make your life easier? Please let us know in the comments section.
Author's bio
Priya Jain has been copywriting professionally for over 8 years. She teaches math, spends her time running behind her toddler and tries new recipes whilst she isnt writing. She has attained an engineering degree, and an MBA. You can find her on LinkedIn.