Did you know, that 75% of searchers do not go past the first page of Google? This states how important it is, as a business, to make your place in the top-searched pages of Google.
Whether you are a small business or an already established one, following SEO practises is a must. For a small business, the challenge is to implement these practices while the established ones need to keep checking the metrics and updating them from time to time. Keeping a check on SEO metrics is the need of the hour regardless of how big or small your business is.
The biggest challenge in keeping a check on these metrics is–keeping up with the ever-changing Google algorithm. Google updates its algorithm roughly 500 to 600 times a year. This means, there is at least one update each day. Now, keeping up with all the updates this frequently could get taxing no matter if you have an SEO expert hired for the job.
So, the question is–how do you follow the SEO practices without keeping a tab on each and every metric? Well, following some essential practices that ensure your position in this competitive digital world of business will help. You can go for two approaches to help you with implementing these practices:
Depending on your business requirements, you can choose to go for any. However, if you go for an agency, do inquire about their previous work in SEO, the practices they follow, and the transparency.
Well, you now know about the how of SEO, let us now understand which practices are essential to implement for your business.
In this article, we will go through five essential SEO tips that you should follow if you aim to see your business ranked on Google's first page.
5 Essential SEO tips to follow for businesses
If you want your viewers to convert into customers, implementing basic SEO practices is a must. Why? Because Google needs to recognize it for a viewer to recognize it, right? So, below-mentioned are some tips that will help your business be recognizable by Google. Try to follow all five tips for measurable results.
Include FAQ section
Why do you think a webpage has an FAQ section? Well, to guide its customers and provide them with a reliable solution to their queries, right? While the intention of FAQs is to address customers queries and doubts, it is not enough if you wish to build an SEO-friendly website.
Simply adding an FAQ section at the end of the page wont reap your results. You need to follow the same SEO practices that you follow for any webpage. This includes writing optimized content containing related keywords, adding meta descriptions, meta tags, and other SEO practices.
So, you need to write SEO-friendly and well-optimized content that not only helps clear customers' doubts but also ranks your page on Google.
Include quotes from experts
It is impossible to have thorough knowledge about any topic. So even if you may have some knowledge of the subject, it is likely for certain knowledge gaps to occur. You bridge this gap by adding some quotes from industry experts. This not only improves the credibility of your business and instills the trust of customers but also has SEO benefits.



If your content has an expert's quote, it makes the overall content quality high and indirectly helps in a higher Google ranking.




It could also lead to more backlink generation since the people quoted in your content will share it with others.



Improved credibility and more backlink generation will have a direct impact on your page ranking.
Keep updating the website and content
Google is more likely to rank the pages that are relatable and fresh as compared to those that are outdated. Now, updating doesn't simply include updating the content. You need to be aware of the latest trends in website design and content. If both of these parameters are kept in check, the ranking of your page will be good.
Updating content includes updating blog posts, images, and videos.
Updating blog posts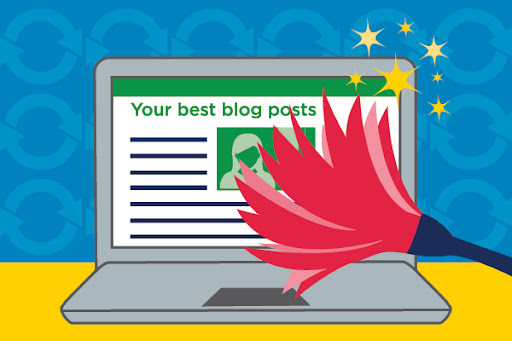 Lets say you had written a blog on the latest fashion trends a few months back. You need to keep checking if there is any update in the content and make changes in your blog if required. Updating content will also update the publishing date and this will make the content Google-identifiable.
Another important point to note here is to add visuals. Consider creating your own visuals including charts, tables, etc and see how the traffic volume increases.
Updating images
If you are updating an article from 2010 that has a screenshot of the Facebook interface of that year, it looks outdated. While updating content, you also have to consider if images need to be updated as well.
Plus, there could be links (text or image links) that would be broken or outdated. You need to check these and update them as well.
Convert blog posts to videos
87% of marketers admit that video content has helped them increase organic traffic. Undoubtedly, videos have become the favorite type of content for users today. The reason is quite simple–they are easy to understand and require a minimal attention span. The simpler your content is, the more visitors your page will have.
Also, the 'time on page' statistic increases with video content. Let's understand this with an example.
You have written a blog post regarding your latest upcoming products. Now, instead of writing a 500-word blog explaining all the products, you can write a brief about each and embed a video comprising details of all products. This means that a user will spend a few seconds going through the text and then clicking on the video to know more about the product.
The key is to not provide the whole picture to the user. Give them a glimpse of your product and let them get redirected to the video to know it in depth. This way, the overall time the user spends on your page increases which further improves the engagement and viewership metrics.
The SEO practices for a video will differ from that of the textual content. While posting a video on your channel, you will need to embed subtitles, add keywords in the video title and description and produce a high-quality video to generate traffic.
Audit at regular intervals

Needless to say that implementing SEO practices is not a one-time thing. Even if you have hired an SEO expert who has ensured each and everything while following the SEO practices, you constantly need to keep a tab on these metrics. There could be outdated or broken links in your website that you might not even be aware of. Or there could be pages where the content quality is extremely poor.
Now, if you have a website with very few pages then manually checking each page wont take you long. However, if your website has about a hundred web pages, you need a smart way to go about it. Heres when you can use Audit tools that will crawl all pages and give you a detailed insight on SEO issues for each page and ways to fix them.
Wrapping up five essential SEO tips for businesses in 2022
Implementing SEO practices is not only important for visibility and gaining organic traffic. These are obviously important, however, it is the conversion rate that eventually matters to a business, right?
While these tips will help you keep SEO metrics in check, they won't be of use if you do not put in consistent efforts in improving the SEO of your page/s. After all, you want a visitor to click on that CTA and convert into a customer. For this to happen, it is important to follow these basic SEO practices and keep updating its metrics as and when required.
Also, it is vital to remember that, unlike content creation, SEO is not creative. It is majorly technical wherein you need to keep the content quality along with other practices in check. So make an SEO strategy following these tips and see how it goes for you!
Author Bio:
Parita Pandya is an Engineer turned Writer. She usually finds herself writing for businesses. When she is not writing, she is either strumming her guitar or penning her thoughts down on paritapandya.com.