Just 5% of the labour force worked mostly from home in 2019, according to the Office for National Statistics (ONS). However, the coronavirus pandemic caused many individuals worldwide to operate from home and this had to be encouraged by businesses. The world has participated in the largest remote working experiment in history over the past few months and many seem to want this to become the new standard. A joint study conducted by O2 and YouGov shows that after lockdowns are completely lifted, 45% of staff plan to work from home permanently. Yet, the notion of working from home is constantly hanging over one word: efficiency.
In recent years, numerous research and surveys on this subject have been published, but the coronavirus pandemic has forced the largest work-from-home social experiment in history. Jointly released by Buffer and AngelList, the State of Remote Study 2020 asked respondents to list the biggest difficulties with working away from the workplace.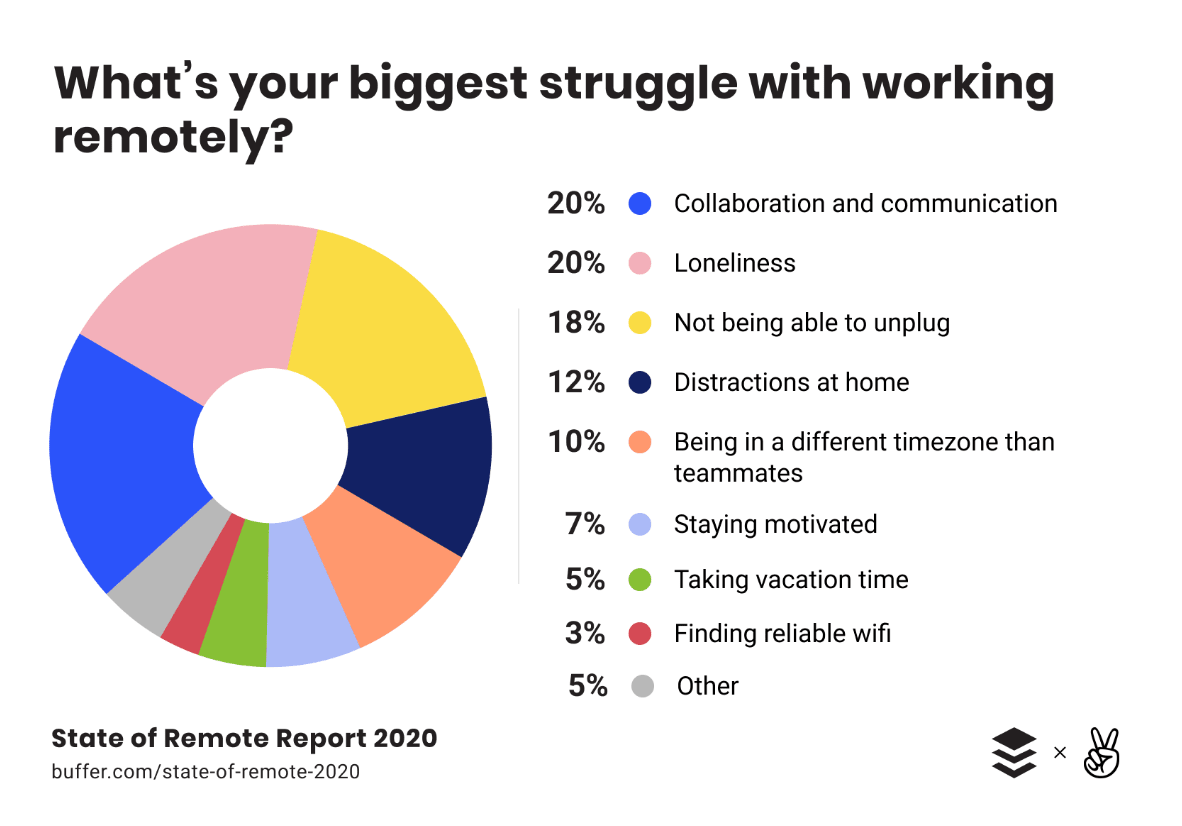 Source: Buffer
The European Foundation for the Development of Living and Working Conditions' study previously examined the consequences of working remotely. The following challenges that individuals working from home are more likely to face are highlighted:


Working too much


Difficulty prioritising work


Interruptions


Loneliness


Communication issues


Time zone differences


Technology hiccups


Developing bad health habits


There are significant issues with being productive, keeping a balance between work and life, and remaining healthy while working from home. When team members are split up across different places, technology is important, so the resources we look at in this list are all targeted at addressing the most common challenges of working from home, both as individuals and as part of a team. However, there are some benefits of using productivity tools beyond "improving your productivity and get your work done":


Develop good habits and make them stick - The more often you use instruments for efficiency, the more you get used to it. And the more you get used to it, the easier it is to build and adhere to good and efficient habits (of being productive). Maybe you'd like to do a 30-day challenge. For 30 days, give it a shot and it'll be a part of your everyday routine in no time.


The quality of work improves - It is easier for you to learn your rhythm to enhance your quality of work while you build the correct habits of being productive. In this scenario, you can make changes using efficient methods that will boost the overall process and the outcome.




Boost customer satisfaction - The idea that productivity tools raise your overall work quality leads to meeting the expectations of your customers. Customer loyalty can be enriched to a very large degree in this way. Note, happy clients, lead to more sales. And the higher the satisfaction of the customer, the greater the confidence you receive.


Grow your work-from-home business for the long-haul - It helps you to benefit from previous projects by using productivity tools; that's how you know what works for you and what doesn't. It makes it easier for you to make little progress continuously in all facets of your career. These small changes help you and your team members to improve productivity continuously and keep the company going for an extended period.


Remote work was known as a customer service job at below minimum wage years ago, but it is becoming a full-time profession with patterns increasing. Technology makes us able to do the same job wherever we are in the world. People are trying to adapt to this technology all over the world. To keep up with the changing needs of their workers and to adapt to talent from parts of the world, companies strive to get into this. Here are the key reasons why the trend for remote work is rising:


Setting your working schedule


The comfort of being at home


Chance to travel more


Less stress


Better time management for personal life


More satisfying


There are several reasons to use productivity tools while working from home and these are:


Focus apps: Help you get things done and clock off on-time to keep you focused on the job at hand.


Team communication: There's no problem with messaging and email tools to ensure remote communication.


Project management: Tools for administrators, teams and people to prepare and coordinate their assignments.


Schedule meetings: Take the fuss out of community meetings and video chats being arranged.


Video calls: Video calls and community meetings are the best applications currently available.


To-do list apps: Both for work and personal life, handle individual activities.


Time tracking: Apps to keep track of how much time is spent on individual projects for executives and individuals.


Doc sharing and collaboration: On the cloud, develop, exchange and collaborate on documents.


Screen sharing: Apps that make it easy to share screens with fellow team members on your computer.


Remote access: To provide technical support and complete tasks on their behalf, access and monitor the devices of other team members.


Password management: Team and private password management apps.


Automate repetitive tasks: Invaluable tools for remote and home-based jobs that automate repeated, time-consuming tasks.


Switching off: To stop your whole life revolving around working from home, make sure you clock off and turn off after work.


A modern generation of tech tools helps bring workers who work in remote places into the office's everyday give-and-take. It can be difficult to match workplace productivity from outside the office, which leaves companies facing lower output or staff having to work longer hours. Fortunately, technology can tame the productivity problem of working from home, and Zoom's rise may be the most obvious example, but it's not the only one. There are plenty of tools for productivity that will help you improve your productivity and save you time. Here are the various types of productivity tools that we will look at in this article to improve productivity when working from home:
Because of COVID-19, more workers than ever work remotely, and some companies can continue to introduce more flexible work arrangements even after their physical companies are reopened. People are searching for tools and processes to self-manage their productivity without the in-person supervision that onsite work provides. However, working from home is only going to get easier. If during the coronavirus pandemic you have found it difficult to operate from home, the good news is that it will only get simpler from here on in. The biggest issue with working from home is that managers and executives typically don't understand the kind of work culture needed to create a home work-life balance.
Around the same time, there are no solid policy provisions to assist/protect individuals operating from home and the difficulties it poses. Now that corporations around the world are reassessing the need, protection, productivity and economy of workers coming into the office, this is all going to change. Employers and administrators would have to re-evaluate the culture of work they set up to help workers working from home gain efficiency without burning out. Similarly, new laws would have to be introduced to secure home staff's personal lives to ensure that the boundary between work and homestays in place, one of the most daunting aspects of working remotely or from home.
Kudzai Derera is a Consultant at Industrial Psychology Consultants (Pvt) Ltd, a management and human resources consulting firm.
LinkedIn: https://zw.linkedin.com/in/kudsaiderera
Phone: +263 242 481946-48/481950
Email: kudzai@ipcconsultants.com
Main Website: www.ipcconsultants.com