Not so long ago, our world was surprised by a pandemic that changed almost every aspect of our lives. Due to Covid-19, many people were asked to change the way they work. All around the world, the traditional 9-to-5 office work system was turned into remote work from home.
It's not like remote work wasn't popular before this, too.
Before the outbreak, 27% of today's remote workers were given the option to work outside of the office or chose that career path for themselves. Two years after the outbreak, 59% of Americans, whose jobs can be done outside of the office, work remotely.
Regardless of how this unfolds in the future, two things are certain: One is that flexibility is something that many employees enjoy, so the interest in remote work will not go away any time soon. The latter is that businesses need to adapt to the 'new normal' way of working.
This is beneficial for employers, too. Hiring a remote team allows them to get more versatile choices in terms of who they will hire. Thanks to technology and software solutions, organizing remote teams is now not only possible but also made very simple.
Knowing this, we'd like to tell you a few simple ways in which you can organize your remote team's workflow. However, before we get to it, let's see why you need to be working hard to achieve this.
Risks associated with poorly organized remote team workflow
Remote work opportunities give you a much bigger pool of job candidates, but it still comes with particular risks for your team's success and productivity. This model of work can result in employees slacking off because you aren't there to keep track of what they do. It can also result in them being overworked because they try too hard or too much.
Lack of physical interaction with your team and interaction between them can decrease trust within the company. It weakens the bonds and prevents colleagues to build the same level of trust as they would if they meet every day in the office.
Unless you organize the workflow properly and provide your team with the right tools to make their work run smoothly, you are risking delays in communication, long feedback loops, burnout, possible underperformance or overtime, and delayed decision making. Using the best time card app for construction sites is an excellent way to organize your remote team's workflow. It gives team members the ability to stay connected with each other and keep track of tasks in real time, no matter where they are located. Through features like chat rooms, to-do lists, automatic notifications, and project management tools, tracking apps provide a whole new level of transparency that allows team members to follow their progress over time. Not only does it foster collaboration among members, but it also ensures that everyone works efficiently and productively.
A well-organized workflow, on the other hand, can eliminate all these risks and offer you tons of benefits. If you do it right, you can increase productivity for your team, keep track of their performance, and facilitate communication. Since they'll have less time for commute, they can form a better work-life balance, which will keep them happier and more productive.
The steps to a well-organized remote team workflow
Your organization of the team's workflow is crucial for the completion of your projects and your team's happiness. Now that you know all this, let's take a look at the 4 simple ways to organize it properly.
1. Find engaging and clear ways of sharing information
Most remote teams get some documents with guidelines on how to work and communicate, as well as occasional emails and lists that share their tasks with them.
Unfortunately, this is how most remote teams work nowadays, and it is not the right way to do it.
If you want to promote communication between yourself and your team, keep them informed and engaged, and make the information clearer, you need to find engaging ways to share the information.
Let's take a look at some examples of engaging ways of sharing information.
Create videos to share important information
Instead of sending them a document or a list where you explain how your company works or what the project will include, why not create a video?
Videos are more personalized, visual, and engaging. You'll be allowing your remote team to see you, get to know you, as well as creatively get useful information.
Transcribe your videos to text files
If you do decide to make videos to share guidelines or information, make sure to provide the written version of what you say, too. Why? Because, at some point, your team might need some information that you shared in the video, and they won't have to watch it all over again if you simply transcribe it for them.
It is not at all complicated to transcribe a video to a text file these days. There are many tools online that will help you convert your message to text, providing your team with several forms of content to learn and get inspired from.
You can use Amberscript to create subtitles, export them in different formats, and do all this within minutes instead of hours.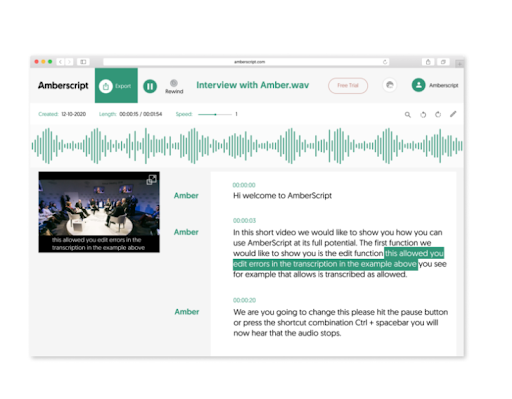 Mix your communication software tools
There are so many great software tools for communication these days that it would be a pity if you choose only one and stick with it. If you provide your team with more options for different communication purposes, they'll feel freer to reach out to you or communicate with each other.
For example, a single company can use tools like Slack for day-to-day operations, Google Meet or Zoom for video meetings, Jira for task management, and tools like Miro for whiteboard traditional meetings.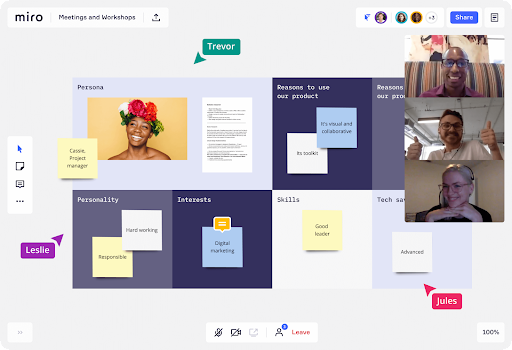 Use a web form creator to build forms with ease
When you have a remote team, you need to be prepared to send emails and other communication forms regularly. You'll need these to keep people informed, send them reminders, and collect useful data to progress your projects.
To make this simpler and more efficient, use the 123FormBuilder web form creator. This tool will allow you to drag and drop forms in minutes, send email notifications, create surveys and contact forms, and get access to over 1,900 form templates to customize.
With such a tool at your disposal, you can easily create different forms of communication and share them in no time. This will eliminate delays in communication, as well as make your communication more creative and diverse.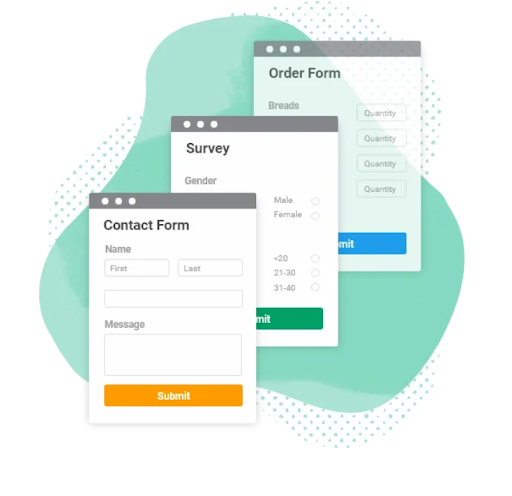 2. Keep track of your team's performance
As your team's manager, you need to inform your remote workers of your precise expectations for their work and the project. This is only steps one, though.
The next vital step is to evaluate their performance and make sure that your team meets the expectations you set for them. Some of them will grasp the project ideas and tasks right away, but others might need more explanation and training to do the job effectively.
The only way to learn if your remote employees are working the way they should, whether they need guidance or praise, is to do a performance evaluation.
It is hard to keep track of the work of a team that's spread in many places and not in the office. However, you can carefully track each individual's work, communicate with them, as well as use performance evaluation tools like HRWeb, AssessTeam, and Leapsome.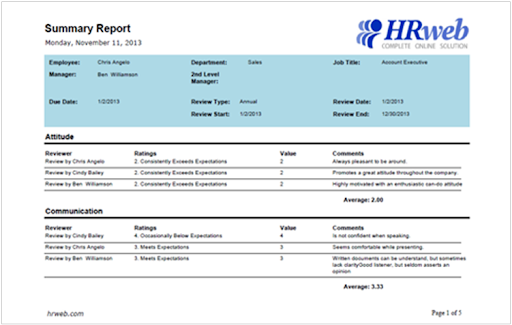 By evaluating the performance of your team, especially your remote team, you can learn how to help and motivate them to work more efficiently. The performance reviews that you'll send to them will assist your team in better understanding the project's requirements.
While you should make sure to keep track of their work on your own, using such tools will provide you with additional impartial evaluations based on parameters, which will eliminate any sort of bias or misunderstandings.
3. Prioritize recognition and feedback
Remote teams enjoy the perks of flexible work and don't have to commute, but they hardly attend office celebrations for achievements and milestones. Their bosses are not always around to give them praise when it is deserved and congratulate them on a job well done.
However, there's no reason to think that praise and recognition are impossible when you have a remote team. Since you'll be tracking the workflow and their performance, you can use the data collected to provide them with feedback and recognize the hard workers.
There are plenty of ways to show your appreciation and recognize good work with remote teams. You can create one-to-one meetings and thank the worker for their effort, send them thank-you notes and small gifts, and essentially, promote them or give them a bonus.
Recognition does not always have to come in the form of a raise or cost a lot. Remote workers don't get as much praise as in-office personnel, which is why you should find ways to 'pat them on the back to encourage them to keep working.
4. Organize regular team and 1:1 meetings
Instead of meeting with your remote team solely to share the tasks or project details, make it a habit to meet with them regularly. Hold weekly, biweekly, or even daily meetings to discuss progress, see if your team has any problems, and simply check in to see how they are doing.
Frequent meetings will help your remote workers connect with each other and become a team. It's a great way to share information, keep everyone on board, but also boost relationships and promote teamwork.
Besides summary and communication meetings with your team, find some time to communicate with your workers individually. One-on-one meetings will give the team members that didn't feel free to speak up during a team meeting a chance to share their insights and problems and ask questions they have for you. It's also a great opportunity to give them feedback and help them grow professionally.
Studies show that most remote workers feel shunned and left out. This particular step will help you avoid this from happening to your team.
Are you ready to organize and manage your remote team?
Remote teams can bring many perks to a business as long as they include the right people and the workflow is properly managed. If you want your remote workers to enjoy their work, perform well, as well as complete your projects on schedule, these are the tips to follow.